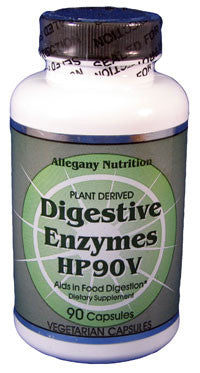 Allegany Nutrition Digestive Enzymes HP90V
Regular price $42.95 Sale
Allegany Nutrition's Digestive Enzymes HP90V is a plant-derived enzyme supplement that assists with digestion, assimilation and detoxification.
Allegany Nutrition uses the highest quality all-natural blend of plant derived digestive enzymes available on the market today. Digestive Enzyme HP90V helps break down hard to digest foods and ease indigestion, bloating, and gas so you feel better. This enzyme product contains a high activity level of protease, amylase, lipase, cellulase and also includes eight other enzymes. The higher activity levels assist in digesting more proteins, fats, carbohydrates and fiber than other digestive enzymes products. Digestive Enzymes HP90V may also be taken between meals to aid in detoxification.

Suggested Use: As a dietary supplement, adults take 1 or 2 capsules at the start of each meal, or as directed by your health care professional.  May be taken between meals and before bed to aid in detoxification.  For best results adults should drink at least 8 eight-ounce glasses of water daily.
Supplement Facts
Serving Size: 1 Capsule
Servings Per Container: 90
1 Capsule Contains Amount Per Serving % Daily Value Protease 150,000 FCC/HUT * Acid Stable Protease 500 FCC/SAPU * Bromelain 100 GDU * Amylase 20,000 SKB * Malt Diastase 250 FCC/DU * Lipase 5,000 FCC/FIP * Lactase 500 FCC/ALU * Cellulase 3,500 FCC/CU * Hemicellulase 1,000 FCC/HCU * Invertase (same as Sucrase) 800 SU * Phytase 4 U * Pectinase 2,000 AJDU * Ionic Trace Minerals w/ Alfalfa 30 MG * * % Daily Value not established.    
Other ingredients: Vegetable capsule (vegetable cellulose, water), Vegetable Stearate (Palm oil).
Contains no corn, dairy, gluten, rice, soy, sugar or fillers.
90 Capsules; plastic bottle