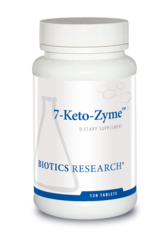 Biotics Research 7-Keto-Zyme - 120 tabs
Biotics Research's 7-Keto-Zyme supplies 3b-Acetoxyandrost-5-en-7,17-dione (also referred to as 7-oxo-DHEA Acetate), a naturally occurring DHEA metabolite. Structurally, 7-oxo-DHEA Acetate is almost identical to DHEA, however, the activity has been reported to be up to 2.5 times greater.
There is another important difference. 7-oxo-DHEA Acetate is not converted to sex hormones—thus it will not convert to testosterone or estrogen.
Studies performed by Lardy and associates at the University of Wisconsin, have shown that supplementation with 7-oxo-DHEA Acetate increased IL-2 in human lymphocytes, enhanced memory, and increased thermogenic liver enzymes.
Gluten and dairy free.