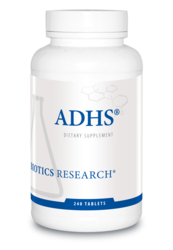 Biotics Research ADHS - 240 tabs
Biotics Research's ADHS is an adaptogenic formation designed to support normal cortisol levels. ADHS contains no glandular material and is appropriate for vegetarians.
ADHS, could be an acronym for ADrenal Hyper-Secretion. ADHS is a comprehensive and effective adaptogenic formula, providing selective botanical extracts, with pertinent vitamins and minerals. ADHS serves to replenish nutrients depleted by the stress response, thereby positively supporting adrenal function. ADHS is frequently used in combination with other Biotics Research products, including Optimal EFAs, Cytozyme PT/HPT, Bio-Glycozyme Forte or GlucoBalance. Following their evaluation, your healthcare professional may recommend adjunctive support for your specific needs. As always, you can count on Biotics Research Corporation to offer superior nutritional products supplying "The Best of Science and Nature".
Gluten and dairy free.