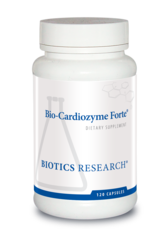 Biotics Research Bio-Cardiozyme Forte 120 tabs
Biotics Research's Bio-Cardiozyme Forte is a special, broad spectrum formulation, designed to support healthy cardiovascular function. Supplies vitamins, mineral, amino acids, botanicals and antioxidant enzymes known to support heart health, along with specific glandular support.

Nutritional support of the circulatory system is multifaceted. Optimal functioning of the cellular machinery requires a balance of key nutrients, including building blocks, enzyme cofactors, antioxidants and essential fatty acids, for maintenance of the cellular mechanisms. It has been suggested that the failure of the heart, along with subsequent myocardial infarction may be associated with an antioxidant deficit as well as increased myocardial oxidative stress.
Does not contain: gluten or dairy.