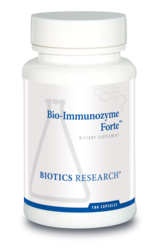 Biotics Research Bio-Immunozyme Forte 180 caps
Biotics Research's Bio-Immunozyme Forte is a unique, broad-spectrum multiple designed to specifically support normal, healthy immune function. Provides a wide array of vitamin, mineral, botanical, amino acid and organ/glandular specific support.
While the period of time from late winter to early spring marks the height of cold and flu season, it is important to maintain optimal immune function year round. The inhibition of viral transmission, and the immune modulating effects of certain nutrients, helps support healthy immune function. Bio-Immunozyme Forte™ is a unique, broad-spectrum formula which may be used in lieu of a general multiple vitamin.
Bio-Immunozyme Forte™ consists of a variety of nutrients and factors which support immune function. Vitamin C and bioflavonoids have been well documented in their support of healthy immune function via the immunological activity of leukocytes, interferon, and inflammatory reactions to promote resistance to infection. Neonatal thymus gland concentrate is one of many nutritive components which support neutrophil production and cell mediated immunity. Cell mediated immunity is crucial in the body's resistance to yeasts, fungi, parasites, bacteria, and most importantly, viruses, because it is a frontline defense that does not require antibody production. Zinc, an essential cofactor for over 70 enzymes, is of vital importance for the highly proliferating cells of the immune system, particularly monocyte and macrophage function, as well as affecting the number and activity of neutrophil granulocytes and natural killer (NK) cells. Vitamin A maintains a distinct action on cellular immunity. In addition to its role in the support of mucosal surfaces, it also aids in maintaining lymphatic tissues, and in antibody production, particularly that of secretory IgA. Another antioxidant with marked effect on immunoactivity is vitamin E, which in addition to its protective effects on gastric mucosa, has been shown to improve immune responsiveness, as evidenced by a decrease in lipidperoxidation, ie. PGE2. Other ingredients in Bio-Immunozyme Forte™ include L-Lysine, Echinacea, Capsicum annum, Chlorophyllins, methyl donors and Lactobacillus acidophilus (DDS-1).
Does not contain: gluten