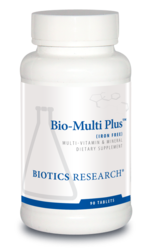 Biotics Research Bio-Multi Plus Iron Free - 90 tabs
Biotics Research's Bio-Multi Plus is a versatile, balanced multiple vitamin and mineral supplement supplying unique forms of important micro-nutrients. This product is available in three versions: regular Bio-Multi Plus, Bio-Multi Plus Iron Free & Bio-Multi Plus Iron & Copper Free.
Research has clearly demonstrated that diet alone may not supply nutrients in sufficient amounts necessary for overall good health. Many studies support the use of dietary supplementation to ensure adequate intake of important nutrients. A growing number of doctors, researchers, and nutritional experts agree that supplementation is important to protect against common deficiencies, many of which have been linked to unwanted chronic conditions, and to provide support for optimal physical and mental wellness. Therefore, for generalized well-being, a complete multi-vitamin and mineral formula is required to ensure that the nutritional basics are covered.
Included in this complete formula are vegetable culture phytonutrients high in antioxidant enzymes, as well as a wide array of other important synergists, such as natural mixed carotenoids, bioflavonoids, emulsified fat soluble vitamins, and specific amino acids. 
Does not contain: gluten or dairy