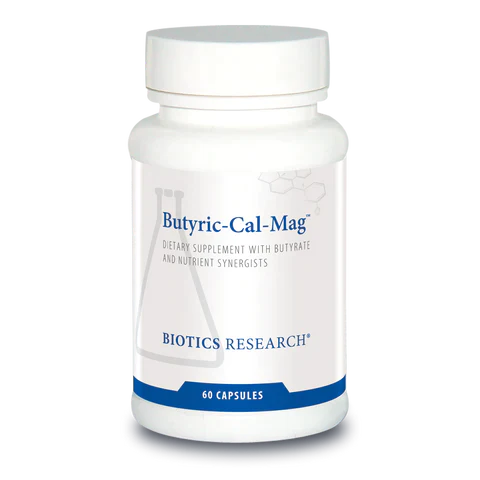 Biotics Research Butyric Cal-Mag 60 capsules
Biotics Research's Butyric-Cal-Mag™ supplies Tributyrin, a butyrate generator.  Upon breakdown by gut enzymes, it supplies the postbiotic butyrate, the primary fuel of colonic cells.
Butyric acid is a naturally-occurring 4-carbon fatty acid formed in the healthy colon from the fermentation of dietary fiber by friendly bacteria.  

In the body, butyrate is produced by the bacterial fermentation of resistant (difficult to digest) carbohydrate and fiber. However, due to our SAD (Standard American Diet) with its increased intake of highly processed, low-fiber foods with high simple sugar content, low levels of butyrate production in the intestinal lumen has resulted. Therefore, supplementation with Butyric-Cal-Mag™ may be a good, safe and effective recommendation. 
Does not contain: gluten or dairy