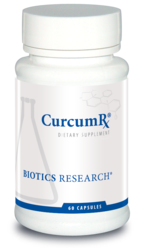 Biotics Research CurcumRx - 60 caps
Biotics Research's CurcumRx supplies an all-natural turmeric complex, providing up to 50% total curcuminoid content, plus turmeric's 200 other naturally occurring compounds, including phenolic compounds, sesquiterpenes, sterol, fatty acids and more.
CurcumRxx supplies a nutrient dense turmeric complex that supports normal, healthy inflammatory responses. Turmeric rhizomes contain numerous bioactive compounds. Although curcumin is thought to be the most bioactive of these compounds, turmeric, provides more than 200 compounds of nutritional interest. These include additional curcuminoids, sterols, polyphenols and fatty acids among others. Numerous studies have reported on the antioxidant effects of turmeric compounds, including the ability to effectively scavenge reactive oxygen and reactive nitrogen species, and to inhibit the activation of NF-kappaB (NF-kB). This is important to human health because the activation of NF-kB influences our DNA to produce proinflammatory cytokines, chemokines and/or other "proinflammatory mediators", which in turn results in an inflammatory cascade.
CurcumRx provides an all-natural turmeric complex, supplying an unprecedented range of beneficial turmeric root nutrients, with as much as 10X the oral bioavailability of other common curcumin extracts on the market, and 5 – 6X greater bioavailability versus other leading professional brands. This is accomplished by the use of a specialized process technology resulting in a unique, all natural emulsion, concentrating turmeric's many nutrients and enhancing the bioavailability without the use of nanotechnology, including the use of "tweens" and other surfactants that may damage lipid membranes and result in "leaky gut." Numerous studies have reported on the benefits of turmeric compounds. Turmeric preparations have been found to scavenge peroxides, and inhibit lipid peroxidation induced by chemical agents. Curcumin has been demonstrated to prevent oxidative damage to DNA, protect endothelial cells against oxidative stress, and be an effective inhibitor of the activation and release of NF-kB. 
Does not contain: gluten, dairy, or GMOs