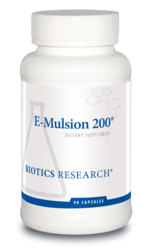 Biotics Research E-Mulsion 200 - 90 capsules
Biotics Research's E-Mulsion 200 provides a supplemental source of vitamin E with mixed tocopherols, emulsified for greater uptake and utilization, combined with SOD and catalase.
E-Mulsion 200® supplies 200 mg of emulsified vitamin E per tablet (d-alpha-tocopheryl acetate and mixed tocopherols), along with SOD and catalase. Vitamin E has proven results as an effective antioxidant and it potentiates the action of glutathione peroxidase via its action as a free radical scavenger, resulting in the prevention of lipid hydroperoxide formation. It has also shown to be effective in protecting the integrity of the cell membrane by means of preventing membrane lipid degradation.