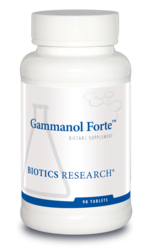 Biotics Research Gammanol Forte (with FRAC) - 90 tabs
Biotics Research's Gammanol Forte supplies FRAC and Gamma Oryzanol, providing free all natural ferulic acid with a complex mixture of polyphenolics, including free sterols and triterpenoids. Supports healthy growth hormone production and offers significant free-radical scavenging properties as well. FRAC is a registered trademark of Biotics Research Corporation.
While gamma oryzanol may be sourced from corn or barley, Biotics Research only uses gamma oryzanol derived from rice bran. FRAC® is a mixture of water-soluble, free transferulic acid and free sterols prepared from natural plant material (rice bran) via an exclusive fractionation process developed by Biotics Research. While the components of Gammanol Forte™ are best known for supporting increases in lean muscle mass and enhancing endorphin release, the sterol components have noted effects on testosterone, estrogen, progesterone and DHEA. Gamma oryzanol has been known to support normal, healthy cholesterol levels, and provide support for those having hormonal fluctuations associated with menopause. Gammanol Forte™ has been shown to support the increase in human growth hormone activity, as measured using insulin growth factor 1(IGF-1).1 The bioavailability of the ferulic acid (FA) component in FRAC® is greatly improved by our fractionation process. Important recent research utilizing a mouse model of cerebral amyloidosis [bearing mutant human amyloid precursor proteins (APP) and presenillin-1 transgenes], demonstrated that brain ß-amyloid deposits, as well as abundance of various amyloid-ß (Aß) species were decreased by oral administration of FA. In vitro validation found significantly decreased Aß production and reduced amyloidogenic APP proteolysis. Additionally, in an animal study ferulic acid was demonstrated to possess neuroprotective properties. Gammanol Forte's™ combination of gamma oryzanol and FRAC®, with its proprietary tableting base, reveal a combined antioxidant effect that is superior to the antioxidant status of either constituent on its own. 
Does not contain: gluten or dairy