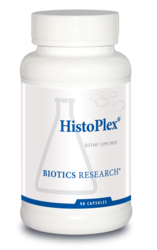 Biotics Research HistoPlex - 90 caps
Biotics Research's HistoPlex supplies a proprietary blend of herbal extracts shown to possess immunomodulating properties.
HistoPlex® was formulated to provide targeted nutritional support for reactions to the body's release of histamine. The combination of herbs and nutrients augment the body's response by clearing heat, and supporting the immune system, supplying compounds to assist in the removal of toxins. Bitter cold herbs are combined with nutritive herbs to support the healing process. The herbal combination in HistoPlex® supports healthy Lung function and toxin elimination through urination and stool, protects digestive Spleen and Stomach, and tonifies the body, while encouraging healthy inflammatory responses.