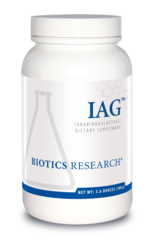 Biotics Research IAG - 100 grams
Biotics Research's IAG supplies arabinogalactans, which acts as a natural activator of the immune systems's complement pathway, and is responsible for non-specific host defense mechanisms.
Derived from the larch tree, IAG™ is a long, densely branched, high molecular weight polysaccharide powder that is comprised of ~98 to 99% arabinogalactans by weight. Although arabinogalactans are found in a wide variety of plants, they are most prevalent amongst larch trees – a variety of pine tree. Larch arabinogalactans stimulate natural killer (NK) cell cytotoxicity, reticuloendothelial cells, and phagocytic activation. Furthermore, larch arabinogalactans are an excellent source of probiotic fiber that has been demonstrated to increase concentrations of butyrate, thereby enhancing colon health.
Recognized for its immune enhancing properties, IAG™'s unique powdered form and mild, slightly sweet taste, make it easy to dissolve into water or juice and is an excellent choice for a wide variety of patients, including young children and seniors who may be prohibited from taking pills or immune enhancing herbal formulas. In fact, IAG™ is so palatable, that if a child doesn't see it being mixed into their juice – they won't be able to detect its presence. Each bottle of IAG™ from Biotics Research Corporation contains 50 servings of arabinogalactans, making it both convenient and economical for healthcare practitioners and their patients.