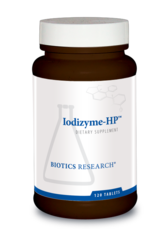 Biotics Research Iodizyme-HP - 120 tabs
Biotics Research's Iodizyme-HP™ is a high potency iodine supplement, supplying both iodine and iodide.

Iodine is an essential trace mineral necessary for the production of thyroxine (T4). Although approximately 80% of the dietary intake of iodine is sequestered by the thyroid gland, other tissues concentrate iodine as well. They include salivary glands, the gastric mucosa, the choroid plexus, mammary glands, and the ovaries. Iodine is often found lacking in the typical western diet. Consequently, as a result of decreased iodine status, sufficient thyroxine cannot be produced by some, negatively impacting thyroid function.
Iodizyme-HP™ is a highly bioavailable source of supplemental iodine in a user friendly, scored tablet, that allows the practitioner optimal flexibility in accurate dosing. Each 1/2 tablet supplies 6.25 mg of total Iodine/ Iodide (as 2.5 mg Iodine and 3.75 mg Iodide) and is both practical and cost-effective. Iodizyme-HP™ is made to the exacting standards you have come to expect from Biotics Research Corporation.