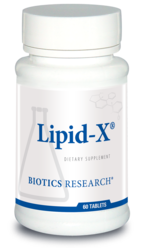 Biotics Research Lipid-X - 60 tabs
Biotics Research's Lipid-X has been clinically shown to bind ingested dietary fats, and may be used as part of a comprehensive weight loss program.
Lipid-X® is a unique dietary supplement. Each tablet supplies 200 mg of magnesium combined with a specially prepared, biologically active vegetable culture providing a natural source of polyphenols and active plant enzymes, including 400 mcg each of superoxide dismutase and catalase.
Does not contain: gluten or dairy