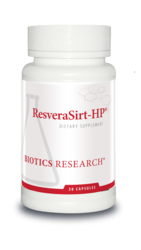 Biotics Research ResveraSirt-HP - 30 caps
Each capsule of Biotics Research's ResveraSirt-HP supplies 250 mg of purified Trans Resveratrol with quercetin for its ability to slow the metabolism of resveratrol. Also included is IP6 (phytic acid or phytin), a 6-phosphate ester of inositol derived from rice. IP6, effective at a wide pH range, is a strong metal chelator, thereby helping to stabilize the formula.
ResveraSirt-HP® is a specialized, high potency trans-Resveratrol formula developed to support vascular integrity and healthy aging. Resveratrol has been shown to impact a diverse array of biochemical and physiological actions, and offers promising potential in promoting optimal wellness. Resveratrol has also been shown to provide significant antioxidant protection, to be cardioprotective, to down-regulate proinflammatory mediators, and to stimulate Sirtuin enzymes. In mammals, the seven Sirtuin proteins impact DNA repair and recombination, cell survival and energy metabolism via selective gene expression. In studies, resveratrol has been shown to mimic caloric restriction, which in mammals has been shown to increase life expectancy by more than 30 percent!
ResveraSirt-HP® is one of the highly popular SIRT- line of products that were developed and formulated in cooperation with Dr. Mark Houston, Associate Clinical Professor of Medicine at Vanderbilt Medical School and Director of Hypertension Institute and Vascular Biology in Nashville, TN. Each capsule of ResveraSirt-HP® supplies 250 mg of purified trans-Resveratrol. In addition to Resveratrol, the formula is enhanced by the addition of quercetin and IP-6. Quercetin has demonstrated the ability to decrease resveratrol metabolism, allowing for a longer half-life, while IP-6 functions as a strong metal chelator, adding stability to the formula. Unlike many competitors' products, Biotics Research is resolute is using a concentrated and purified form of resveratrol. This premium grade resveratrol, not only ensures optimal potency, but it allows patients to avoid the potential for gastric distress – which is a common complaint amongst those taking inferior quality resveratrol.
Does not contain: gluten or dairy