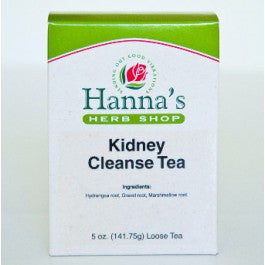 Hanna's Herb Shop Kidney Cleanse Tea - 5 oz
Regular price $15.99 Sale
Hanna's Herb Shop Kidney Cleanse Tea is a blend of dried bulk Hydrangea, Marshmallow and Gravelroot formulated for kidney support.
Suggested Use: Prepare, strain and store using a non-metal container.  Refrigerate or freeze after initial use.  Use as directed by your health care professional.
Supplement Facts
Serving Size: 1 tsp loose tea
Makes 8 fl. oz prepared
Servings Per Container: ~53
1 Package Contains Amount Per Serving % Daily Value Hydrangea Root 1/3 tsp * Gravel Root 1/3 tsp * Marshmallow Root 1/3 tsp * * % Daily Value not established.    

5 oz
This product is suggested as a part of the Body Tune-up. Please see the book for details on specific use.