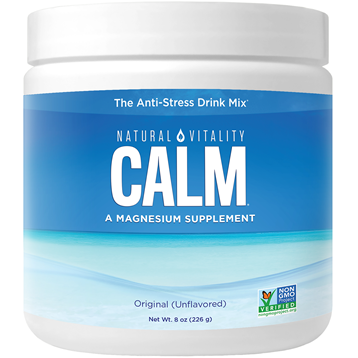 Natural Vitality Natural Calm - Original- 8oz
Regular price $26.99 Sale
Natural Vitality's Natural Calm is a pH-balanced magnesium powder that is designed for easy assimilation to support the digestive, glandular and nervous systems. 8 oz cannister.
Did you know that magnesium influences many bodily processes, including digestion, energy production, muscle function, bone formation, creation of new cells, activation of B vitamins and relaxation of muscles, as well as assisting in the functions of the heart, kidneys, adrenals, brain and nervous system? The fact is that lack of sufficient available magnesium in the body can interfere with any or all of these processes. The National Institutes of Health, Office of Dietary Supplements, reports that there is an increased interest in the role of magnesium in preventing and managing disorders such as hypertension, cardiovascular disease and diabetes. Natural Calm can be taken safely on its own without side effects.
Natural Calm by itself-without any calcium-will help you feel more energetic, younger and stronger and give you a multitude of other benefits, all as a result of the magnesium being available to do its vital job.
During a high-stress time, Natural Calm can provide the amount of extra magnesium necessary to forestall magnesium depletion and damage from stress. Millions have experienced the stress relief and health benefits Natural Calm provides. Drink stress away naturally with The Anti-Stress Drink.
Suggested Use: Individual needs may vary.  Start with 1 teaspoon (or less) daily and gradually increase (within 2 weeks) to 3 teaspoons or more, as needed.  When bowels are comfortably loose, this is the optimal amount.  Can be taken anytime, with or without food.
For Advanced Use: 3 teaspoons (or more), anytime of the day or upon retiring.  Can be taken more than once a day, with or without food.
Preparation: Place powder in a glas or mug, add approx. 1 oz of hot or boiling water and stir until dissolved.  Fill glass with warm water and enjoy like a hot tea.
Supplement Facts
Serving Size: 2 rounded teaspoons
2 Teaspoons contain: Amount Per Serving % Daily Value Magnesium (elements from Magnesium Citrate) 350 mg  87% * % Daily Value not established.    

8 oz powder (226g); plastic container