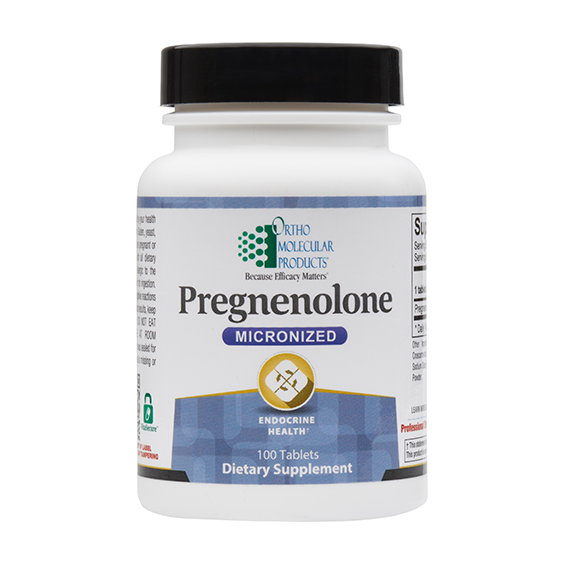 Ortho Molecular Pregnenolone - 100 ct
Ortho Molecular's pregnenolone is a key precursor to cortisol, composed of DHEA and progesterone, it promotes normal adrenal function and supports the stress response system by acting as a hormone precursor.
Pregnenolone is a prohormone that is synthesized in the brain and adrenals, but also in the liver, skin, brain, testicles, ovaries, and retina. As a biochemical precursor to DHEA and progesterone, pregnenolone helps maintain a normal balance between these hormones in the body and as a result, helps to modulate the cortisol-driven stress response system, support nerve cell growth and modulate mood. In addition to its function as a prohormone, pregnenolone is a neurosteroid that is found in high concentrations in the brain where it protects neurons, enhances myelination and supports cognitive health and memory. Pregnenolone supplementation is particularly important for those who have been found to have deficient hormone levels through testing, as well as those who need cortisol-to-DHEA ratio support.
Does Not Contain: Gluten, yeast, artificial colors and flavors