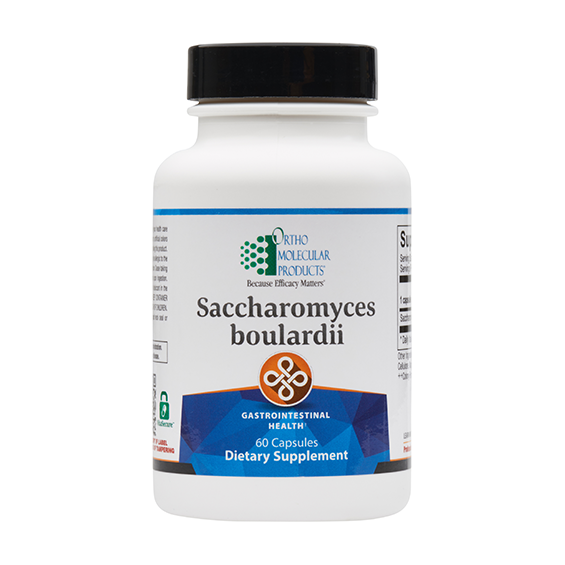 Ortho Molecular Saccharomyces Boulardii - 60 ct
Ortho Molecular's Saccharomyces boulardii formula includes a probiotic yeast that helps support immune function and balance gastrointestinal flora.
S. boulardii was first identified in the 1920s by French microbiologist Henri Boulard. Since its discovery, there have been 250 peer-reviewed articles examining S. boulardii, making this one of the most studied probiotics available. S. boulardii is a non-pathogenic yeast and maintains distinct taxonomic and physiological difference from Saccharomyces cerevisiae or "brewer's yeast." S. boulardii has been shown to support gastrointestinal health by boosting secretory IgA (sIgA) levels. sIgA is an immunoglobulin (protective antibody) that is found in the digestive tract and in mucosal secretions throughout the body. Maintaining healthy sIgA levels is crucial for supporting immune health, particularly in the GI system where there can be significant exposure to pathogenic organisms and viruses. sIgA acts as the first line of defense against foreign invaders in the gut by attaching and neutralizing proteins that are unrecognized by the body. Depleted levels of sIgA are often found in people with low immune response, food intolerance and dysbiosis. Dysbiosis occurs when fewer than normal probiotic organisms and an overabundance of potentially harmful bacteria, yeast or parasitic organisms prevail. In addition to boosting sIgA levels, S. boulardii promotes GI health by competing for space and nutrients against pathogens.
In 53 clinical trials, encompassing 8,475 subjects investigating the safety and efficacy of S. boulardii in pediatric and adult populations, 43 trials (81%) found significant protective efficacy of this probiotic. Supplementation with S. boulardii is an important part of supporting GI health and strengthening the immune system, particularly for those with recent antibiotic use. Each capsule of Saccharomyces boulardii includes 5 billion CFUs of this health promoting, probiotic yeast.
Does Not Contain: Wheat, gluten, soy, corn, animal or dairy products, fish, shellfish, peanuts, tree nuts, egg, artificial colors, artificial sweeteners or preservatives