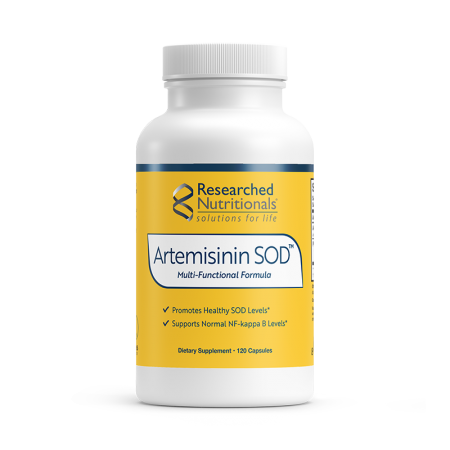 Researched Nutritionals Artemisinin SOD - 120 caps
Regular price $72.50 Sale
Researched Nutritional's Artemisinin SOD™ combines pure artemisinin for immune support, green tea extract to promote healthy levels of SOD (superoxide dismutase), curcumin and quercetin for their healthy impact on inflammation and resulting inhibitory affect on NF kappa B, and black walnut hull to arm the body's anti-parasitic arsenal.
This product was formulated for doctors looking to support the patient's ability to maintain healthy levels of Superoxide Dismutase (SOD) and Nuclear Factor kappa B (NF kappa B), while also supporting the body's natural ability to fight parasites.
Superoxide dismutase (SOD) is a naturally occurring enzyme that protects the body against oxidative stress by scavenging excess superoxide. The body's ability to minimize oxidative stress is essential in protecting cell membranes, essential proteins and DNA from damage. SOD, for example, may be up to 3,500 times more potent than vitamin C in quenching the dangerous superoxide radical. Antioxidant enzymes like SOD decline markedly with advancing age, leading to an accumulation of free radicals and oxidative damage.*
Nuclear Factor kappa Beta (NFkB) is a naturally occurring protein that acts as a switch to turn inflammation on and off in the body. Scientists describe NFkB as a "smoke sensor" that detects dangerous threats like free radicals and infectious agents. In response to these threats, NFkB turns on the genes that produce inflammation. As we age, NFkB expression in the body increases, provoking widespread chronic inflammation.
Each serving contains:
Artemisinin

98.5% pure artemisia annua (sweet wormwood), the purest form of artemisinin for greatest efficacy & immune support
promotes healthy levels of NF kappa B

Pro SOD Complex™

CurcuWIN™ turmeric extract, with published research showing absorption at a rate of 46 times standard curcumin and over 6 to 30 times greater than other enhanced curcumin products. This increased bioavailability advantage was consistently maintained for each of the twelve hours measured in this study. CurcuWIN combines curcumin with a hydrophilic (allowing it to disperse in water) carrier, using the UltraSOL™ molecular dispersion technology. UltraSOL converts lipophilic (fat loving or fat absorbing) nutrients into water-dispersible ingredients. Curcumin is notoriously hydrophobic (not absorbed in water). It creates clumps when placed in water. The clumps reduce the body's ability to efficiently utilize the nutrient. CurcuWIN™ utilizes the UltraSOL™ technology platform creating a molecular dispersion, which is another way of saying this technology creates incredibly small particles. The micro particles are then coated with food-grade excipients and antioxidants to protect and stabilize curcumin. The excipients facilitate better dispersion in aqueous solution while the antioxidants protect and facilitate more efficient utilization within the body. Curcumin (turmeric extract) is a favorite of doctors who want to promote healthy inflammation levels.
Quercetin to promote healthy levels of NF kappa B
Decaffeinated Green Tea Extract to nurture the body's ability to promote healthy levels of SOD to fight reactive oxygen species
Black Walnut Hull to support the body's natural ability to fight parasites
Free of: Milk, eggs, fish, crustacean shellfish, tree nuts, peanuts, wheat, soy, corn and gluten.