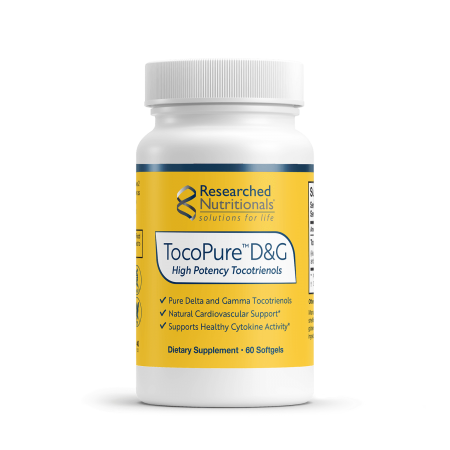 Researched Nutritionals Tocopure D&G 60 ct
Regular price $49.98 Sale
Cardiovascular, Immune & NF-kB Support
Researched Nutritionals' TocoPure™ D&G is pure tocotrienol derived from the beans of the annatto plant. The benefit of annatto derived tocotrienols is that they contain 100% delta and gamma tocotrienols and no tocopherols (which may reduce the absorption of the potent tocotrienol compounds). The power of pure tocotrienols, especially high levels of the delta and gamma tocotrienols includes promoting healthy cellular apoptosis, supporting normal LDL cholesterol levels and cytokine activity (supporting NF-kB management). As an extremely powerful antioxidant, pure tocotrienols play a key role in maintaining cellular membrane health.
Suggested Use
As a dietary supplement, take one to two softgels daily, preferably with a meal (preferably dinner, as product is best absorbed when consuming dietary fat) or as directed by your healthcare professional. Higher doses of two or three softgels may be taken in divided doses.
Cautions None known.